Guess what! On Sunday, my husband and I became first time parents. Godparents. I know...crazy right? Hali and Paul were actually brave enough to entrust us with Sophia's spiritual life. ACK! That's a huge responsibility!!! So, after Saturday's session with Andrew and Amanda, we headed up to Dallas that night to meet up with the rest of our family for Sophia's baptismal and party the following day. The morning started early - 9am! Hali mentioned that she wanted pictures of the baptismal dress and getting ready (just as though we were shooting a wedding!) Hey! I thought I was getting a day off on shooting? :) Well, I only had to shoot a few images, and Vince took over during the ceremony. So, Hali carefully dressed Sophia in her pretty white baptismal gown (we all called her a pilgrim because of the bonnet...) and when we got to the church, the coordinator asked if Sophia had a different dress. Ummm..oops. Seriously, there are always snafus along the way, whether it be baptismal or whether it be weddings! Turns out that she was not supposed to wear her gown until AFTER the actual baptismal when she was presented to the congregation. But no worries...we called one of our sisters (we got plenty of them!) and she bought over a couple of dresses for Sophia to wear so she wouldn't have to be naked in church! So the mass started and we (parents, Sophia, godparents) were introduced to the church, after which the priest proclaimed Sophia as a child of Christ and proceeded to draw the sign of the cross on her forehead. I don't quite know what happened then, but Sophia backed off (as much she could while being held) and started crying. I think more of the case of having a huge thumb come toward her than anything...:) After that, everything went pretty smoothly - including the Lion King tribute...you'll see! :) So stalkers, Hali and I realized something from Sunday's event - Sophia will probably have no say in her wedding day if Hali and I (her godmum aka her booby) have anything to do about it! We're sure to be those moms that the vendors hate to deal with! I can't wait!
Sophia's baptismal gown and her mobile....and Sophia is somewhere inside that really long gown!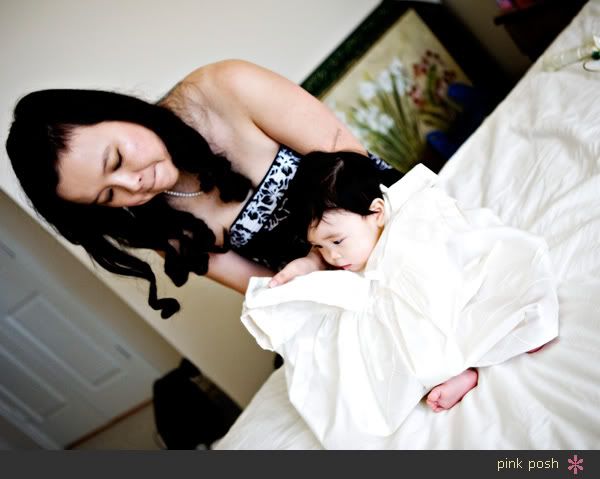 Hali is trying really, really, really hard to get the bow to stay on Sophia's very fine hair.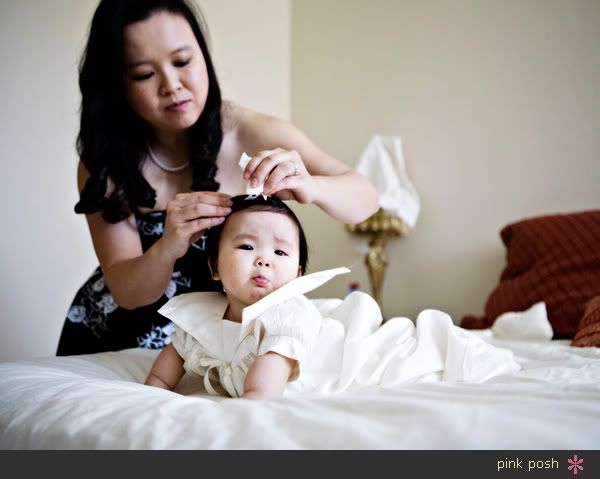 I love the sweet look that Sophia is giving Hali here!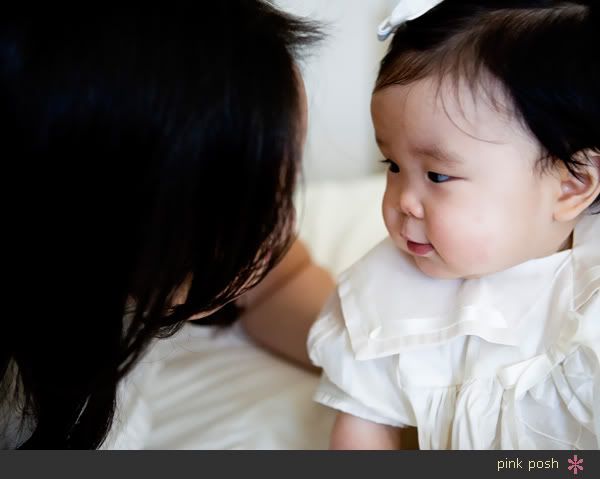 Tricked ya! She caught Hali off guard with her innocent stare only to steal her nose!!!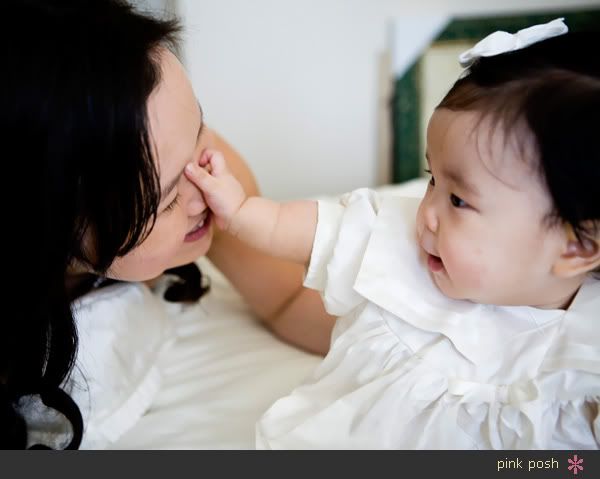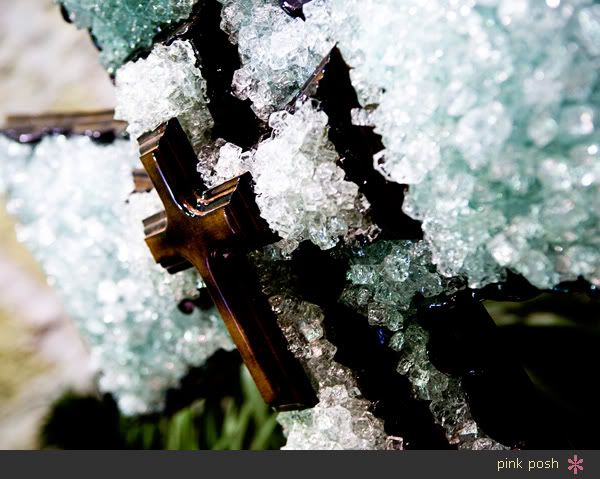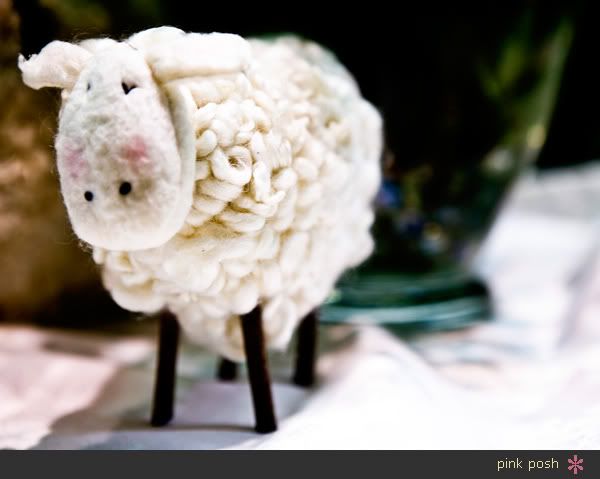 The BEST part of the baptismal mass! After her baptismal, she was changed into her baptismal gown and presented to the church...LION KING STYLE!



Baby formals. You know we always do some of these on the day! These were hard to shoot, since she is now "almost" crawling...but she doesn't quite listen to you when you tell her don't move...or look here! Babies!!!



The sweet little pink bible from her aunties and her baptismal cross from her godparents.


Sophia reading her cards and opening her presents!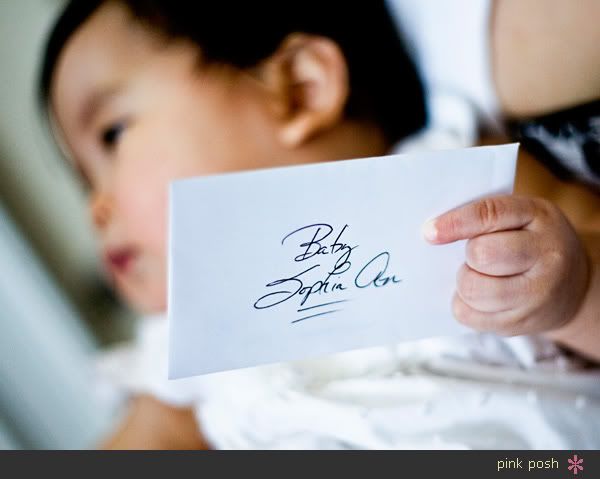 So, both of my sisters (Hali and Jeri) had their babies about two months apart. Here is Sophia with her cousin, Kaeden. :) Yes, she loves him!



Getting acquainted. :)



Babyhugs time!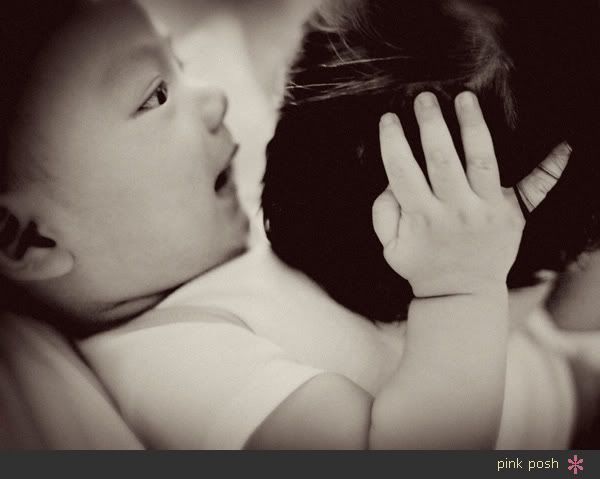 Sophia with her nanny...I mean real mom (Hali) and Sophia with her super cool mom..ummm...godmum. (Hahaha, I write the blog posts, so I basically have complete control of all content...until Hali makes me take it down!)


P.S. Did you notice the new orange flower? Orange is Vince's color. :)