Wedding Date: November 29, 2008
Photographers: Thurston
*
and Mariae
*
Tea Ceremony: Private Residences
Ceremony: St. Margaret Mary Catholic Church
Venue: Kim Son Ballroom (Austin)

Stalkers, it's really rare when a wedding starts on time - especially an Asian wedding...and I'm not stereotyping..I'm speaking strictly from experience. It's even rarer to show up at the time requested and walk in on a half finished tea ceremony! That, dear stalkers, was the situation Thurston and I found ourselves in! So, what to do in that situation? Well, nothing except drop your camera bag...grab whatever camera equipment you can and squeeze your way into the crowd and just start snapping away. But however which way the morning started, (and yes, it threw Thurst and I off a bit with everything running so ahead of schedule), it ended up being a wonderful day and some of my favorite images that I've taken of a couple and of the wedding party is actually in this set. Bonus for it being an Austin wedding and that I got to go home after the wedding and sleep in my own bed on a Saturday! :)
So, stalkers..meet Linh+David. If you're a stalker, then this image may look familiar to you when I did a sneak of it on their
engagement
blog! :) I super puffy marshmallow heart this picture. :)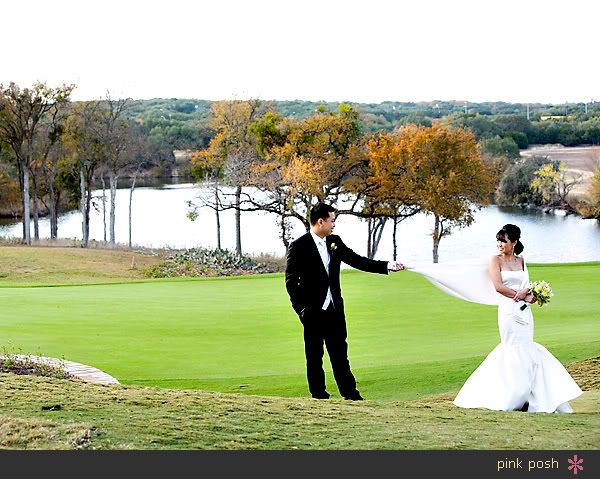 If you ever wondered what you may need for a tea ceremony....having tea available helps. :)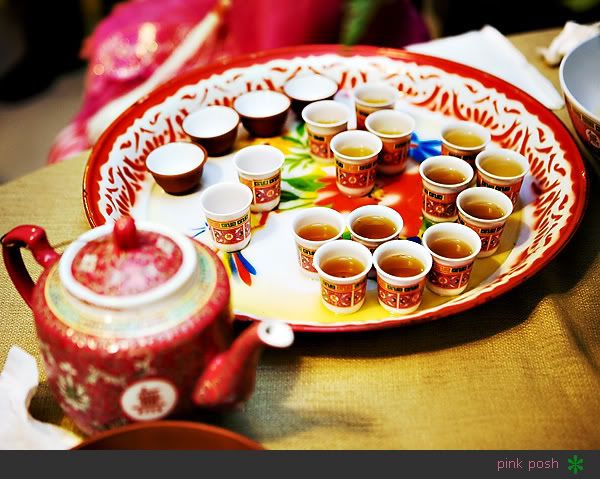 Stalkers..this is the first image that I shot when I first walked through the door of the bride's house...the bride and groom presenting tea to the bride's mother.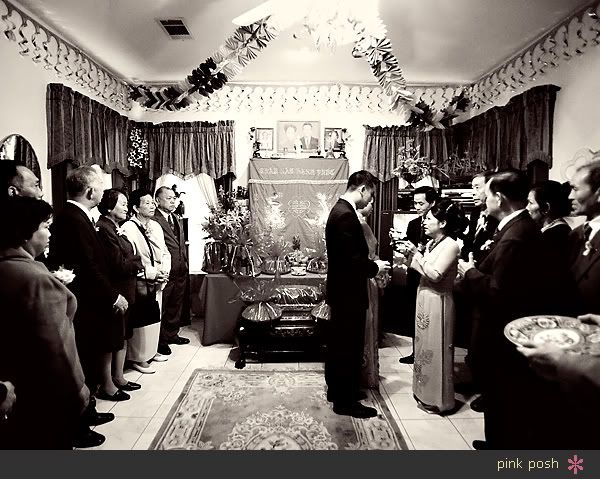 Traditionally, after the tea ceremony is performed at the bride's home (called Vu Quy - pictured above)...the bride is then taken to the groom's family home to perform the tea ceremony over there (called Tan Hon) in front of the groom's side ancestral altar and family.


Because we were done AN HOUR ahead of schedule...I got the chance to walk around the neighborhood with Linh+David for their formal pictures in Linh's traditional dress (Ao Dai). Stalkers, there's really not all that much to shoot around the neighborhood, being that most of it was under construction...but luckily there were one or two trees in the neighbor's yard (yes, we trespassed a little bit)..that had changed color. :)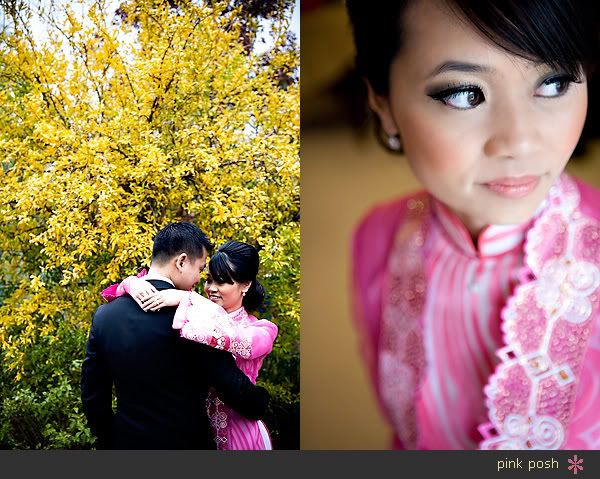 After the tea ceremony...we headed over to the church for their ceremony. Thurst caught this image of the guys helping David out. When I saw this..I couldn't help but laugh. Something about this image is so comedic to me!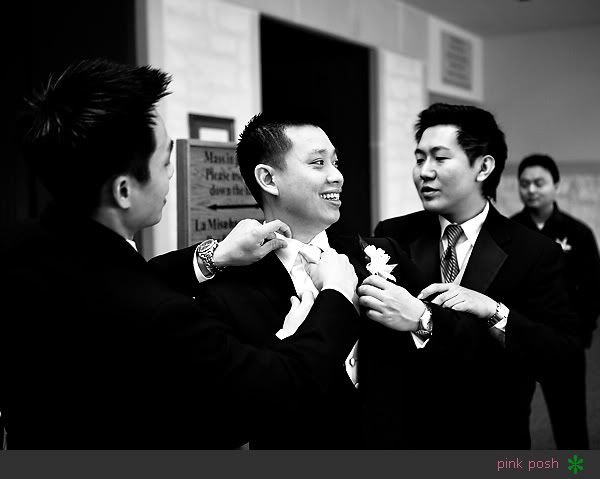 And while Thurst played out there with the guys..I was documenting the girls helping Linh get dressed. :)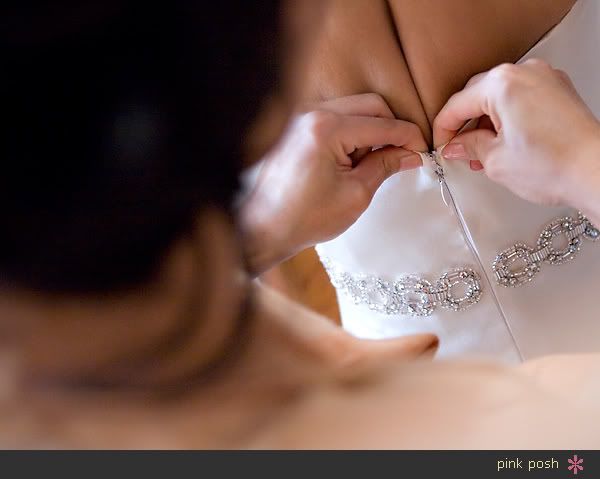 The bridesmaids fixing Linh's beautiful
Linda Asaf's
original creation.

She looks like a doll right? And really how the h-e-double hockey sticks did David get so lucky? :)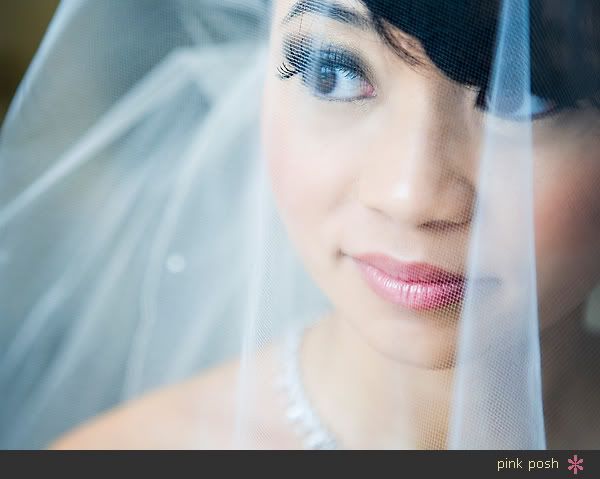 Stalkers! I was so excited to see this! While Linh was getting dressed, she was wavering between wearing the blusher over her or not..and I had mentioned that I wished I did wear a blusher down the aisle...and I was thrilled to see her decide to do this. :)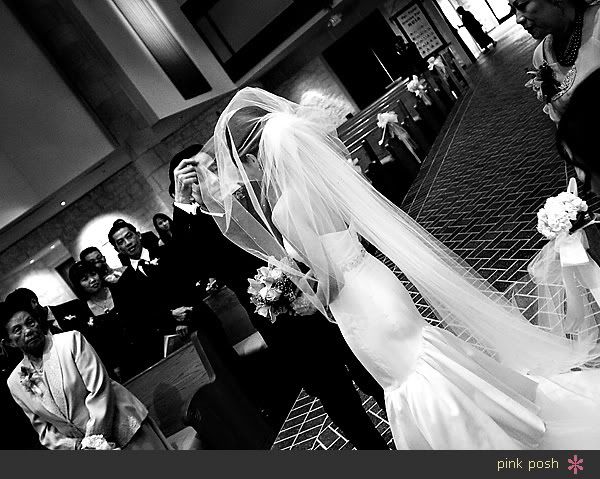 Giving away the bride to David and the rest of the ceremony. (It's late and my brain is not functioning that well while I am blogging!)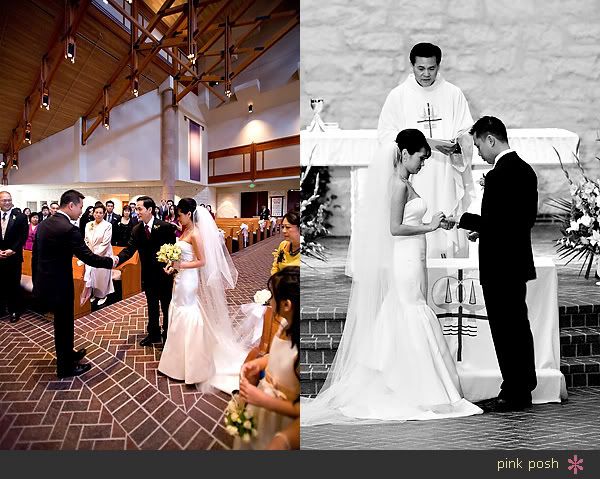 A sweet little moment between Linh and David during church.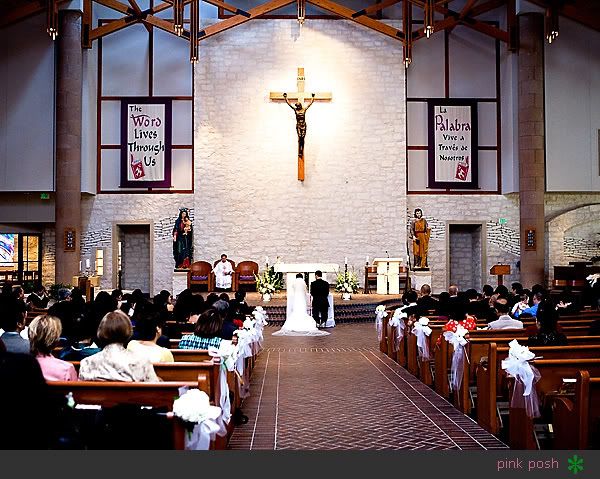 Right after the ceremony, Linh and David had arranged with a local golf course to have their wedding party and bride/groom formals out there! LOVE IT! Especially because they set aside about 2 hours with this. This is one of my favorite wedding party pictures. :)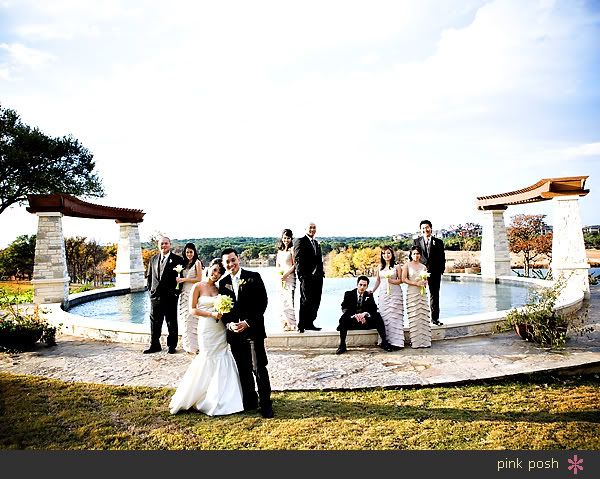 Stalkers, don't let these picture fool you! It was incredibly cold that day...and all the girls are actually trying to get body warmth off of each other! :)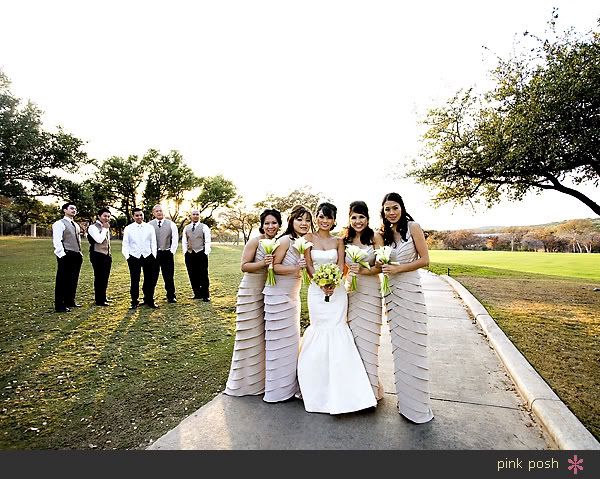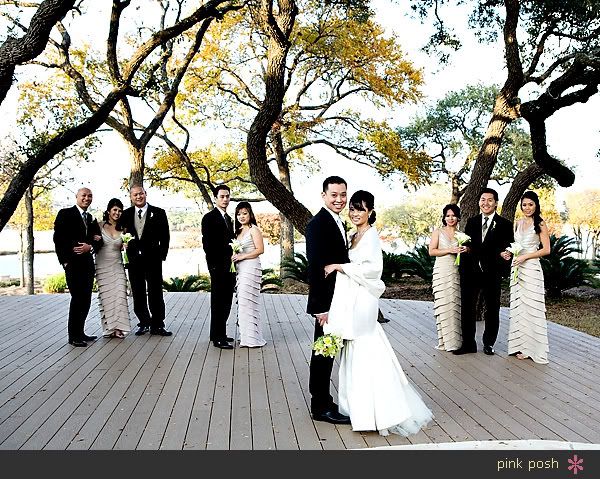 Just the boys. :)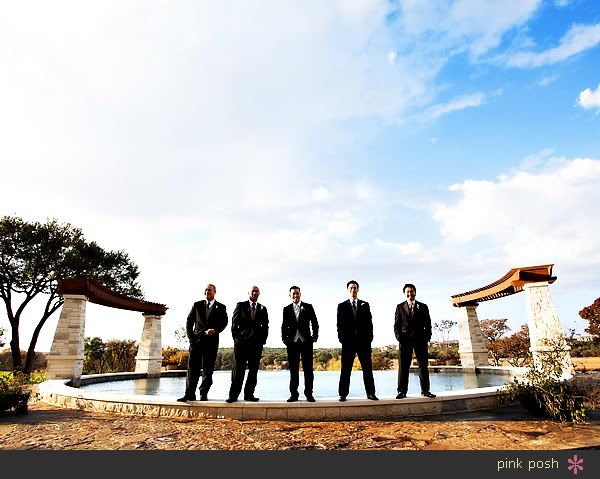 Another fave. I cannot believe how lucky we got with the beautiful trees in the background....and the guys look alright too. :oP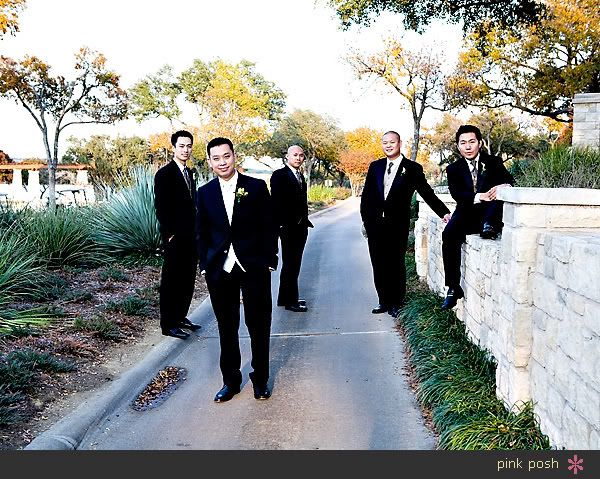 The uber-hot, yet really cold girls.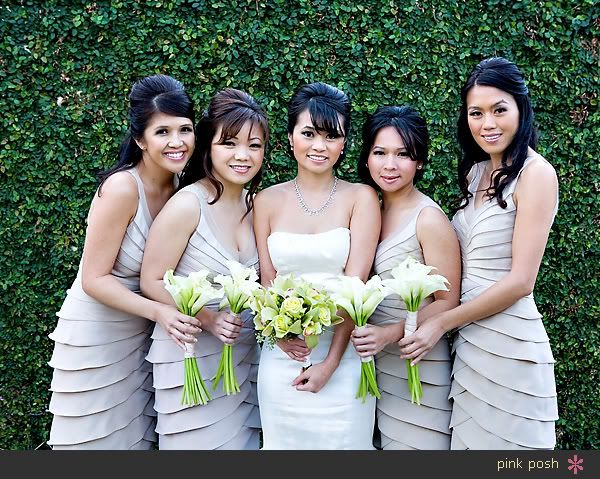 I think you can actually see their teeth chattering in this way. :) Yes, I know the wedding party hated me that day for putting them through this..but really..it's all worth it. :)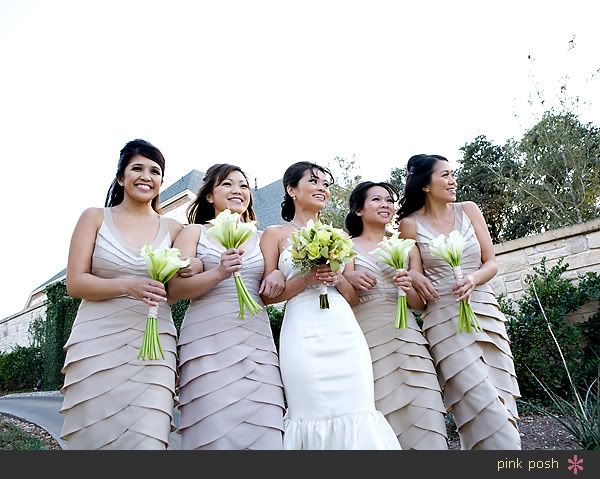 So, I released the wedding party to their party limo...and kidnapped Linh+David for a quick bride/groom session.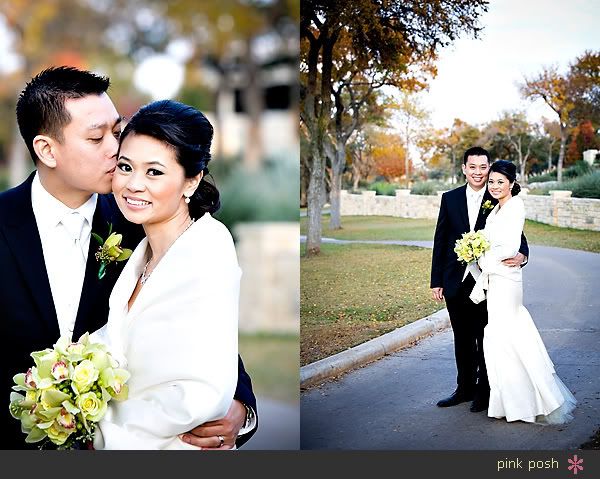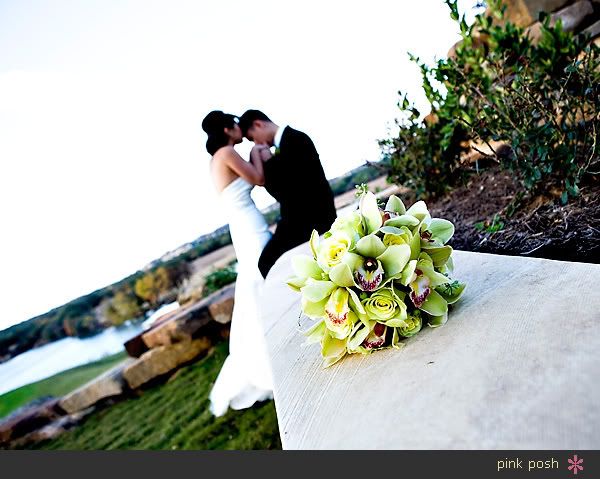 While we were shooting this...the wedding party was hooting and hollering at them from the inside of the limo. :)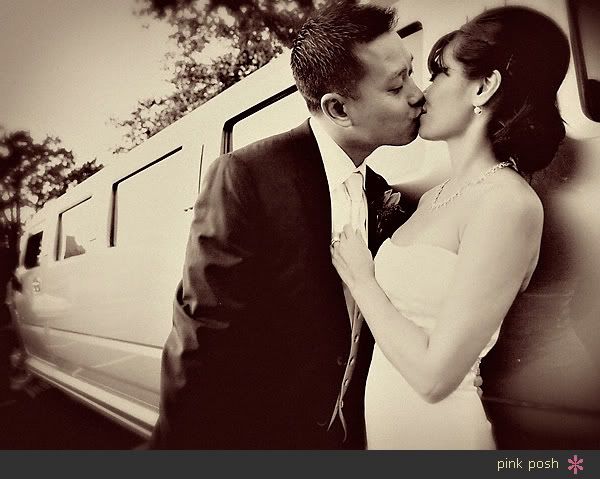 Some details from the wedding day. :)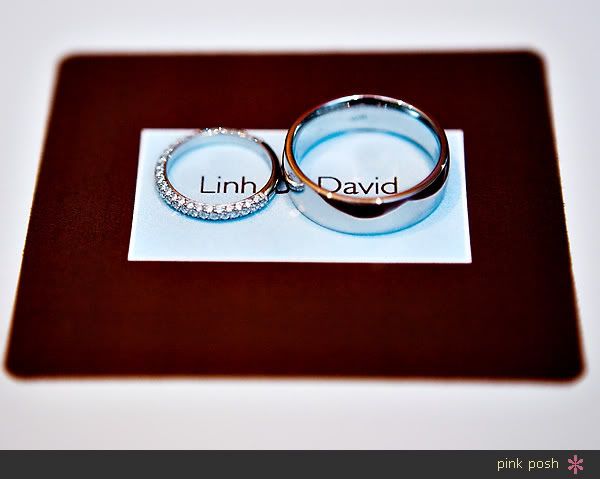 ...rings on a marshmallow. Don't judge.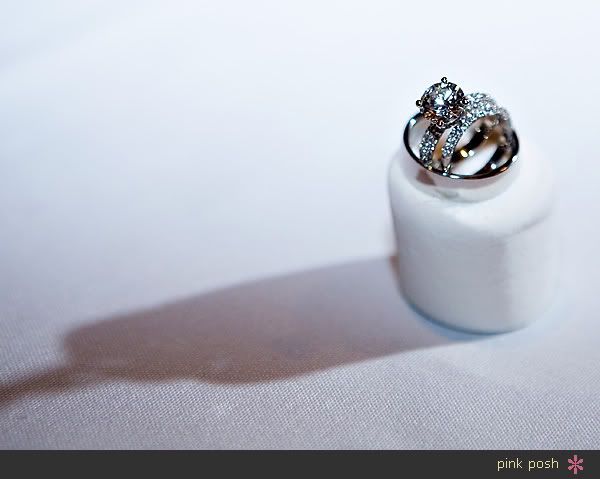 The reception venue. I heard that they actually closed down this Kim Son location about two weeks after Linh+David's wedding. Way to shut down a place guys. :oP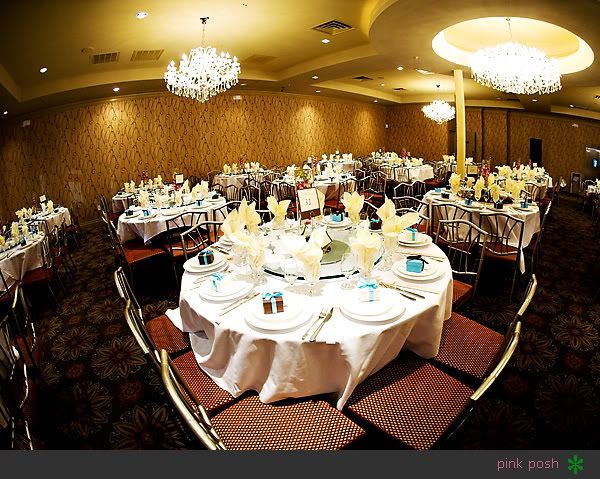 Martha Stewart's style ginormous poms. :)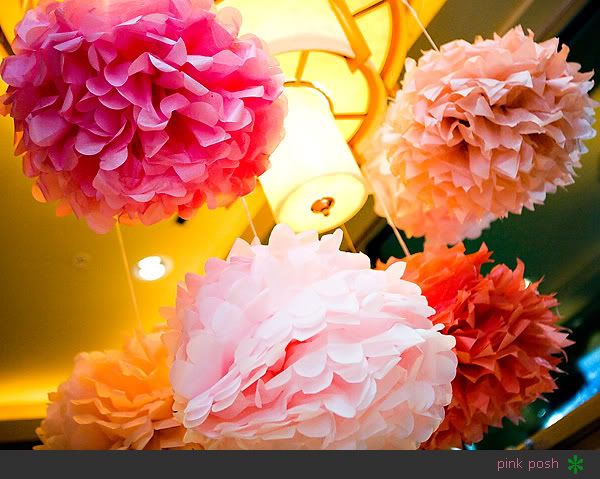 I heart orchids. :)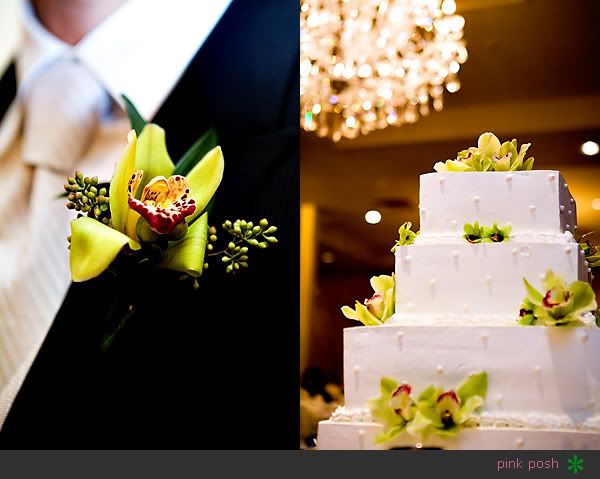 I stole this cd. But then I felt bad about stealing it, so I asked if I could have it. But really, it's for a picture. :) Stalkers, you may have noticed that I've been using alot of "hand models" for these type of shots...so be aware..if you are going to be at a wedding I'm working...your hands may be blog worthy. :oP



Party favors...I can't remember what was inside?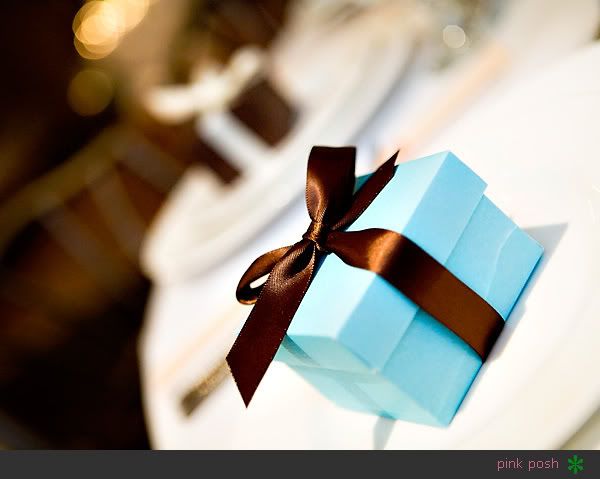 The bridesmaids' bouquets....



...and the bride's gorgeous blooms. :)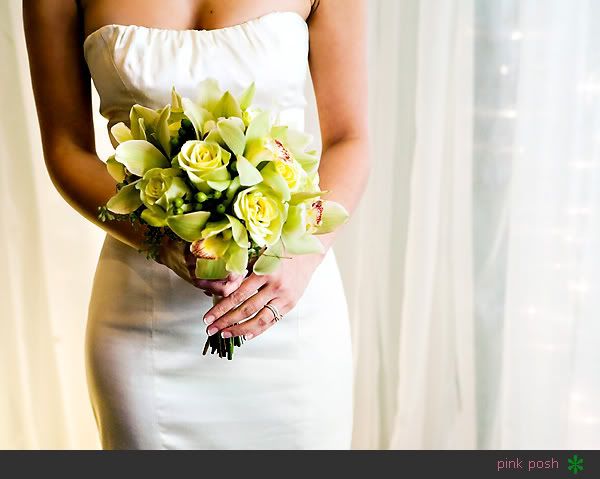 The first dance. :)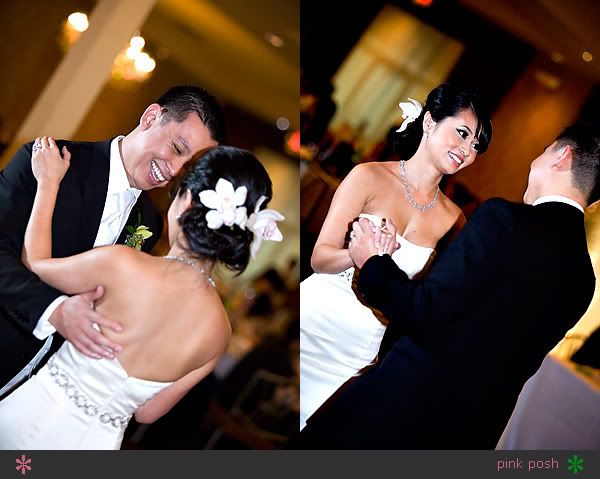 Thurst shot this of the bouquet toss...I love Linh's movement in this image..and how the two little girls are dead center...and should they be there? Because some bouquet toss gets really violent...:oP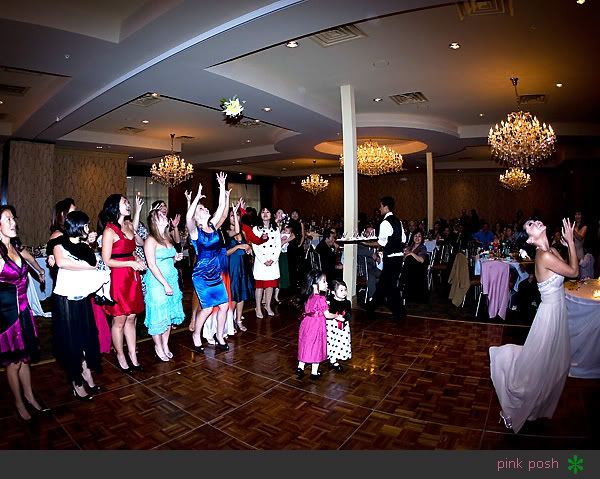 So turns out that Linh is a three dress bride. :) (I was a three dress bride as well!)....and I love this last dress of hers. You know I had to have her and David do a little photo session. :)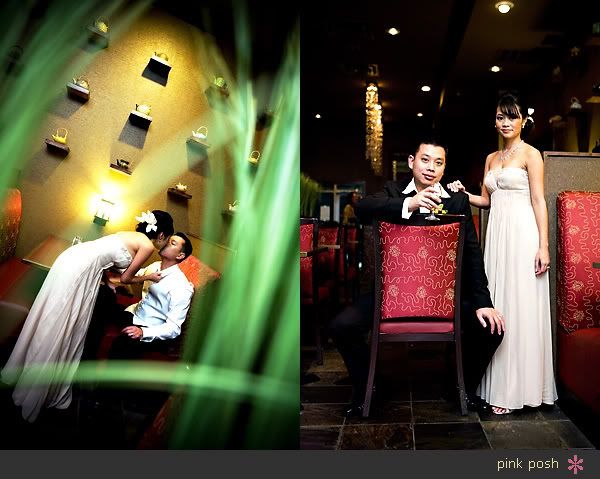 ...and the best part of the night...the dancing!! :)



...yes, it was that kind of night. :)



Linh+David, congratulations. :)