Session Date: February 11, 2009
Photographers: Hali

*

and Marie

*



It's been a while...and initially I was going to blog Ngoc+Mikey's bridal formals together with their wedding (which is actually up next)...but Ngoc had mentioned that she may want to guestblog on this. Stalkers, this is a good thing, because Hali and Marie (not me...(yes, I have an older sister name Marie...and no, this isn't confusing) shot this and you guys know Hali just don't do blogs...so Ngoc went ahead and chose her favorite images and wrote a little something about it. :) Enjoy! :)
--------

"HI stalkers! When Mariae told me that she could not shoot my formal session because she has to be in Austin for another wedding. I was a bit disappointed because I wanted to be photographed by Mariae to look fabulous like her others pictures. Well, to my pleasant surprise, Mariae's sisters- Hali and Marie shot us instead. Since Haley doesn't blog, Mariae asked me to write something for the blog. Ladies and gentlemen (if there's any out there :)) - it's hard to write about yourself!!! Anyways, I wanted to share with you what a wonderful job that Haliand Marie did. They were so patient with us for 5 hours long. There are so many beautiful pictures and it's really hard for me to pick just 5-10 pictures for the blog. Without further ado, here they are! :)

Here we are in our traditional Vietnamese Dress (Ao Dai)...and one in front of the beautiful stained glass window at Paraiso Maravilla.



Mikey was whispering something naughty in my ear on the second image.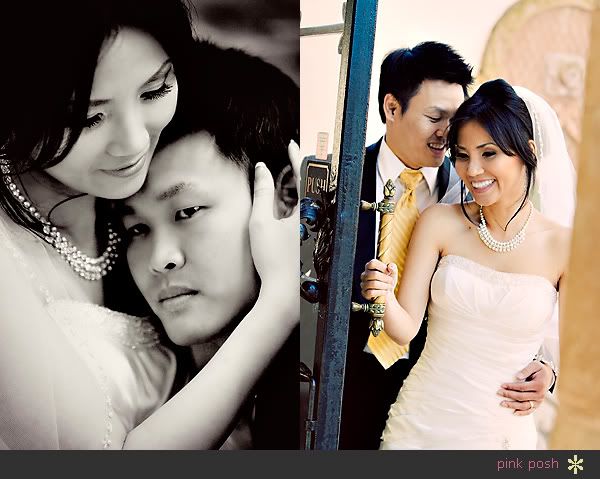 Kissing...and even more kissing. :)



I love the next two...and the one on the right is my favorite bridal image from the session.

I want to thank Hali and Marie for the fantastic job well done. Shout out to congratulate Mariae for her latest press. Pinkposh- you guys are the world class photographers! You'll be more famous day by day!!. Thank you - loyal stalkers for viewing and we'll see you again for the wedding blog. Can't wait !!!