Wedding Date: October 25, 2008
Photographers: Thurston

*

and Hali

*


Venue: Four Seasons Hotel (Austin, TX)
Happy Holidays stalkers. :) So, part two of Monika+Quinn's wedding will actually be their "real" official blog post. Monika and Quinn had an elaborate wedding out at the Four Seasons Hotel off of Lady Bird Lake in downtown Austin. I'm completely jealous that I didn't get a chance to be there at their wedding...........but the good news is that...you guys will get a chance to take a peek of some of Hali's work. I'm actually focusing a lot more of the images that Hali took, since I've been getting tons of requests for them...so without further ado...

Stalkers, I would like to officially introduce to you Mr. and Mrs. Sanford. :) Rumor had it that their wedding ran a little bit late (maybe by a few hours?)...but they had an excuse...they held a huge reception the day prior...:)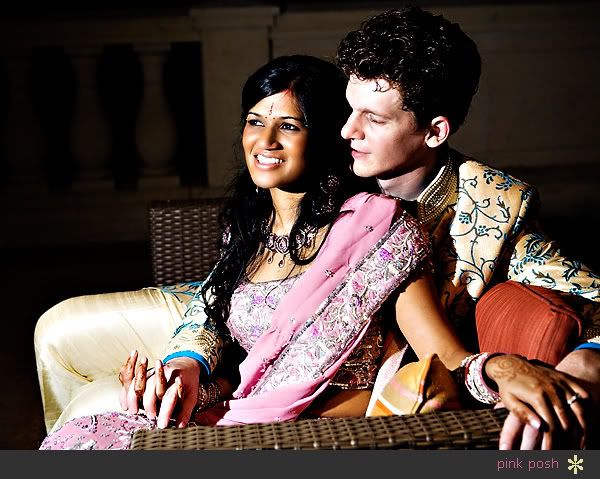 Although we've had the chance to document quite a few Southeast Asian weddings, Hindu weddings for us are pretty rare...although we would love to do more, especially with all the yummy colors and the traditions.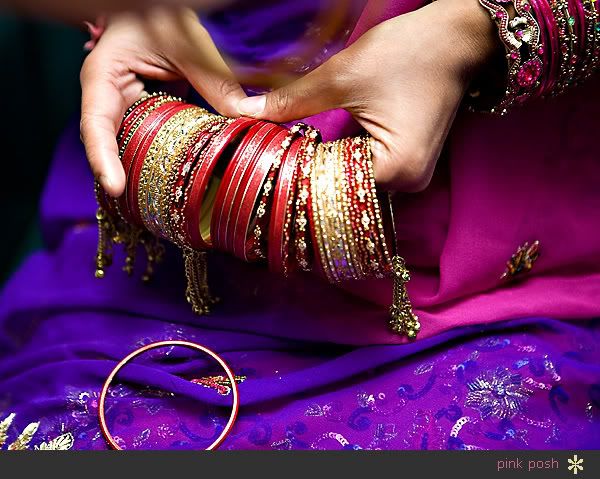 Blinged out. :)

I love these getting ready shots. :)
And because Thurst is a shoe fanatic, he took pics of Quinn's shoes....stalkers, Thurst owns more shoes than I do, and I own A LOT of shoes. Let's just say he works for shoes. :)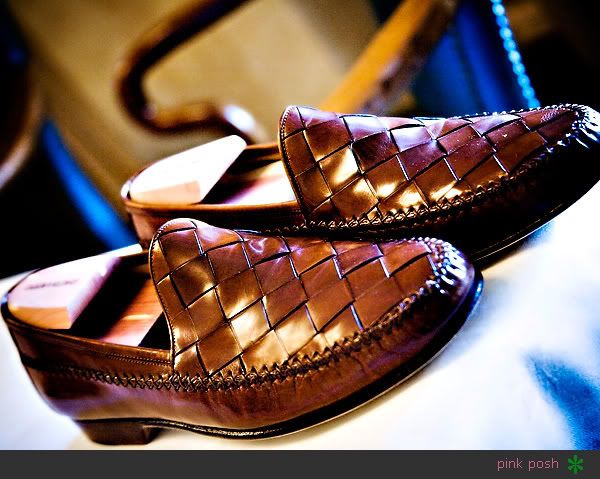 The Baraat! Quinn arriving on horseback! Love it!!

Seriously, why aren't more grooms arriving on horseback??!!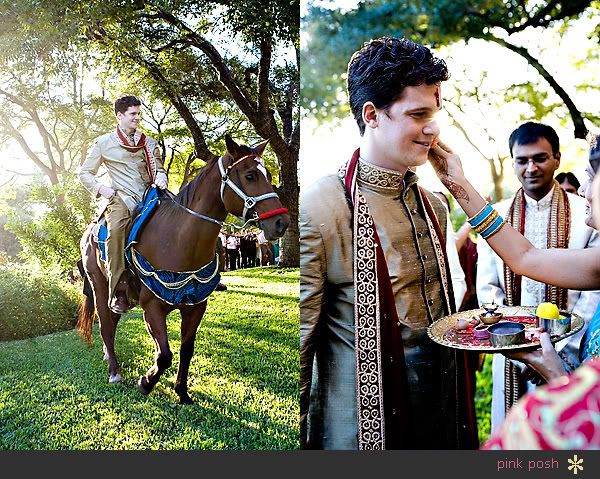 One of my favorite images on the right. Monika and Quinn have not seen each other yet..in fact they are separated....

...by a sheet. (That's why there was a guy standing in the middle of the above picture..to hold up the sheet.) The picture below, you can see a slight outline of Quinn's shadow. :) Monika and Quinn is actually both holding a garland of flowers, that they will exchange as a pledge to each other. (By the way, stalkers, if any of this is wrong....please please please let me know! I used to study Hinduism in college...but my main source of information is almost entirely internet based!)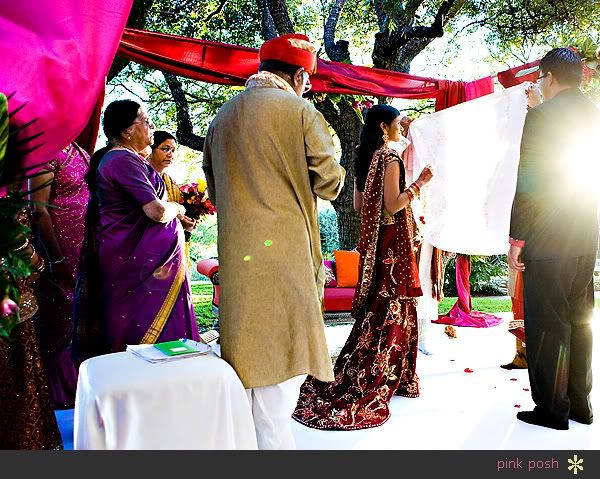 I love the looks that they exchanged right here. :)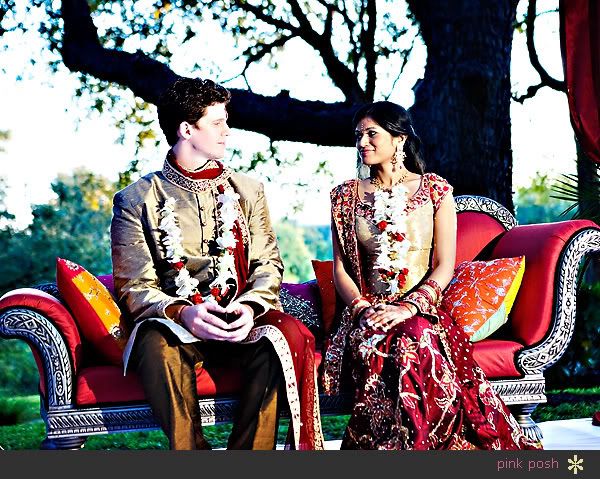 Ring exchange. :)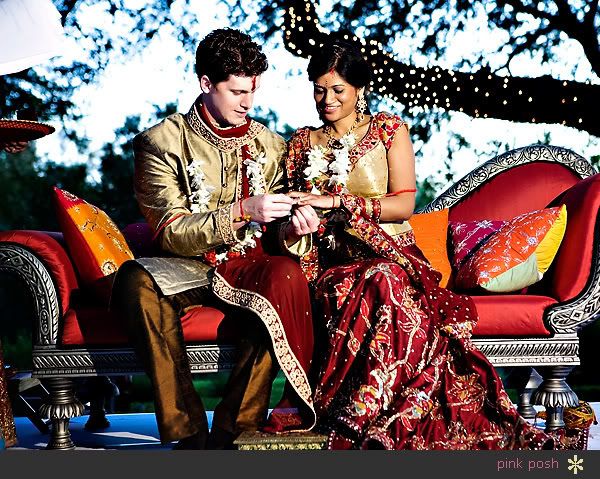 The Gath Bandhan....which is when the bride's and groom's scarves are tied to one another and signifies a pledge that they will love and be faithful to one another. :) (The best part of a cultural wedding is all the symbolism involved!)

Looks like Monika and Quinn are "tied" together for the rest of their lives! :) In the second image, they are doing their walk around the fire (Mangalphera ).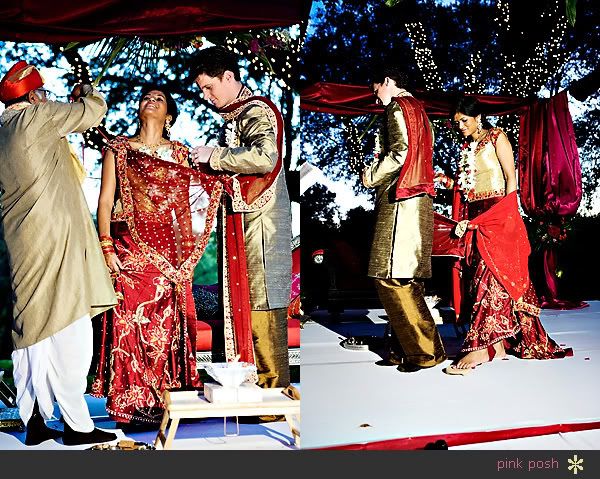 And then they take seven steps together - with each steps representing a different marital vow. This is known as the Saptapardi...which signifies the start of their journey together as a couple. :)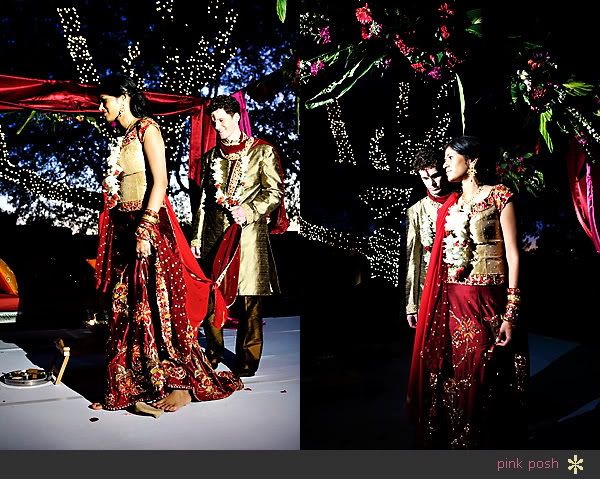 Their exit. Stalkers, did you notice that when the ceremony started..it was still daylight....and now it's nighttime? When I was going through Monika+Quinn's wedding images, I could literally see the sun set and the moon rise. :)
A gorgeous portrait that I had to show off. :)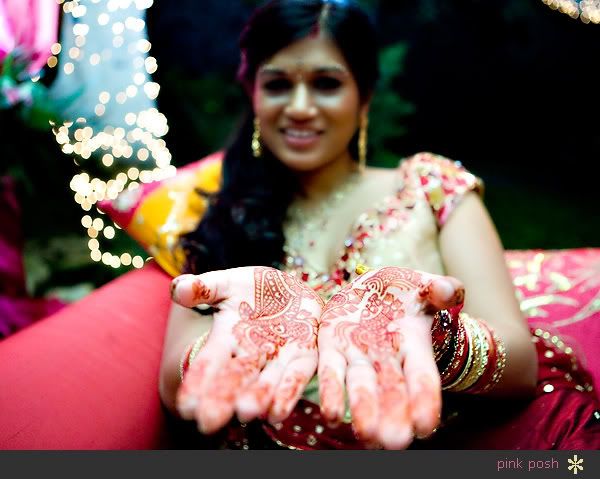 Mr. and Mrs. Sanford. :)

Their first dance. :)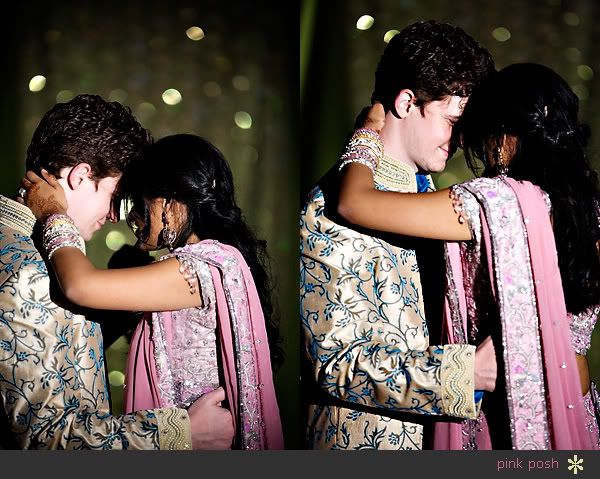 Yum! Look at their cake...and their uplighting. Absolute gorgeousness. :)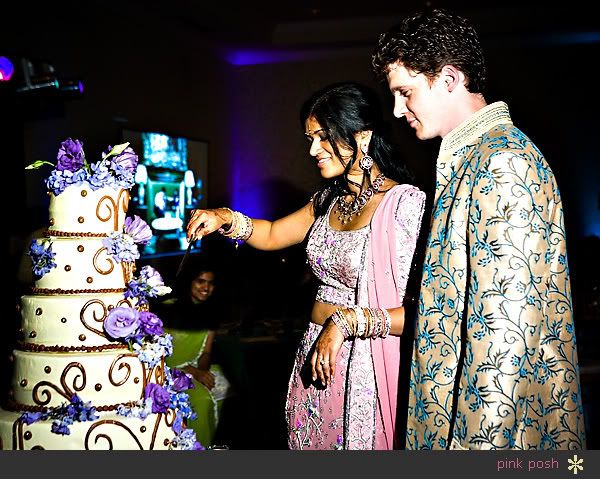 Monika+Quinn's had dancers performed at their wedding...

..and I HEART this picture.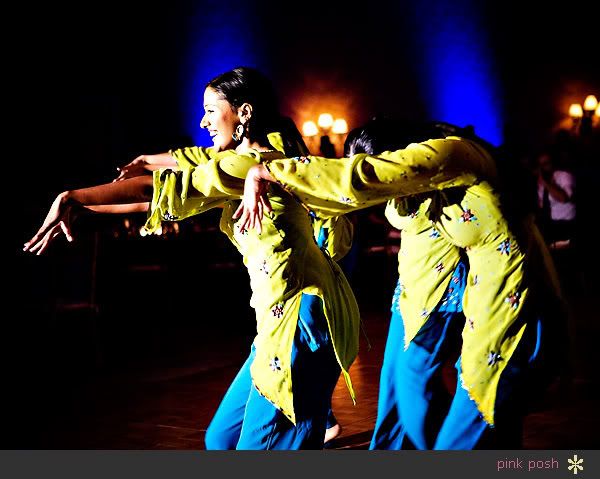 I think it turned into a club at the end of the night? :)

Monika and Quinn...Happy two months anniversary!! :o) Congratulations! I hoped you guys are enjoying married life. :)