Yes, I'm still blogging my Dallas weekend from a month ago! About an hour after we finished the shoot with Quinn and Monika, Thurston and I hung out in downtown Dallas while we waited for Jenny and Souket to show up for their formal session. With Jenny and Souket, this was going to be a little trickier. This was a bridal formal session, and threat of rain clouds appeared... but I convinced Jenny it would be okay to shoot in her wedding dress and Souket's tux in the rain....and maybe bring an umbrella in case? Lucky us, we never received a single drop of rain. Stalkers, I have to tell you that this was probably one of the funnest shoot we had. Admittedly, it started out a little slow and stiff.....but after a few shots (and I'm not talking about the photography type shots either)....at the very end of the night - when we were actually already done shooting - I picked up the camera again and we got really exciting images. :) I think Souket may have even started to finally enjoy the shoot after a few "drank" in him. :oP

Stalkers, meet Souket and Jenny. They have been together for ten years now??!!! Seriously, why would Souket wait so long? Jenny's crazy hot!! :)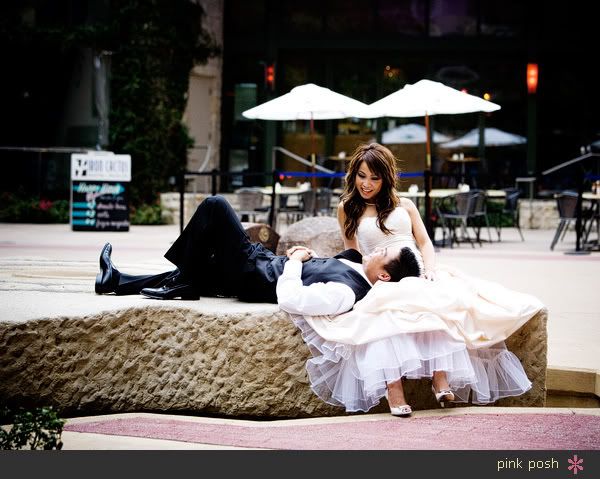 Just a little bit of fun around downtown in an attempt to loosen up Jenny and Souket a bit. :)



We found this cute little hidden alley with real live alley cats - just like in the Heathcliff cartoons!!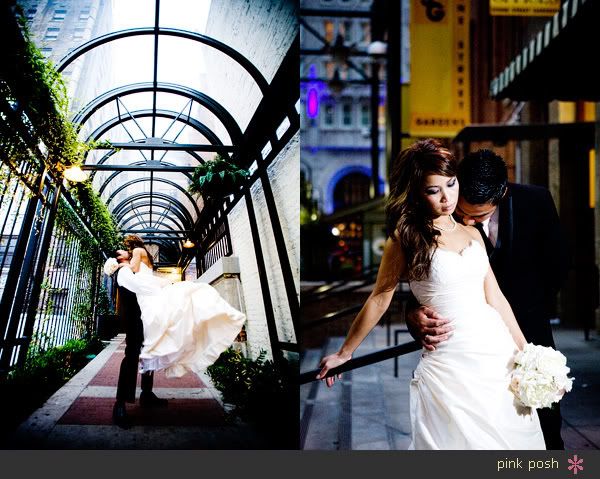 I heart store windows. :) Especially the ones with cute clothes in them. :)



Not sure where or what this place was...but totally cute. We were just strolling and came across it. :)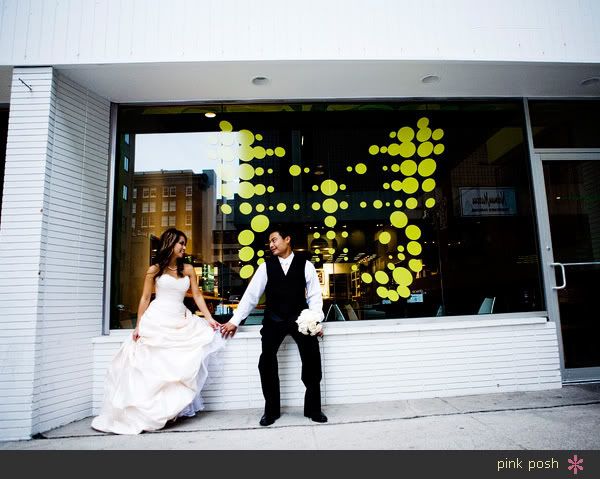 So, stalkers.........this was the best story ever from any of my shoots thus far. So, Souket and I was walking ahead of Jenny, and I saw this little doorway which I was trying to determine if I wanted to use for pictures. Souket thought that maybe he can slide down the railings...which is an awesome idea!!! So, we decided to go for it. Wellllllll......he miscalculated and sat himself too far in - so while he was sliding down...his pants got stuck on some of the knobs down the center.....and it ripped his rental tuxedo pants!!! He did tell me that it was fun and hoped it would be worth it. I totally think it was worth it! Look how adorable this picture is!!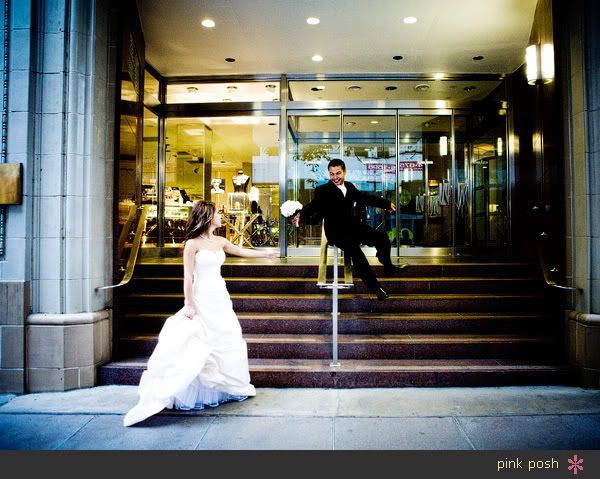 A favorite image of mine.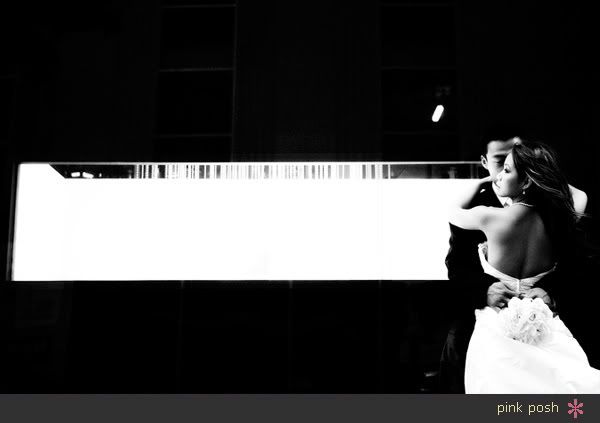 ...and some downtown street lovin' :oP.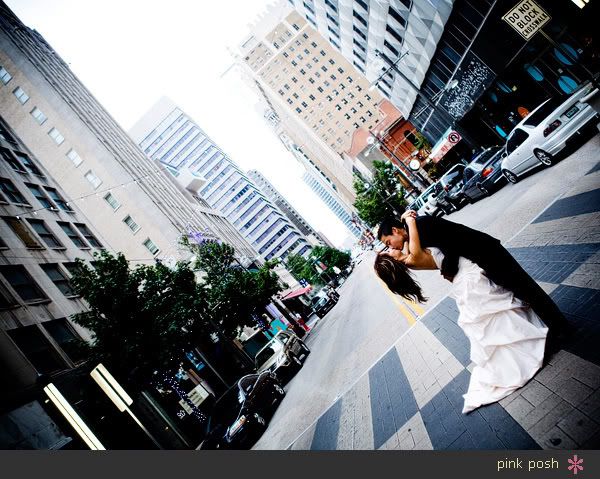 Typically, I normally ask my couple if they smoke. As some of my past couples may know, I have an unhealthy obsession with "smoking" pictures. Well turned out that Souket did smoke. He had to smoke quite a few for me to get just a few images.......and I think I may have helped him a bit in quitting by making him smoke so many cigarettes all at once! :)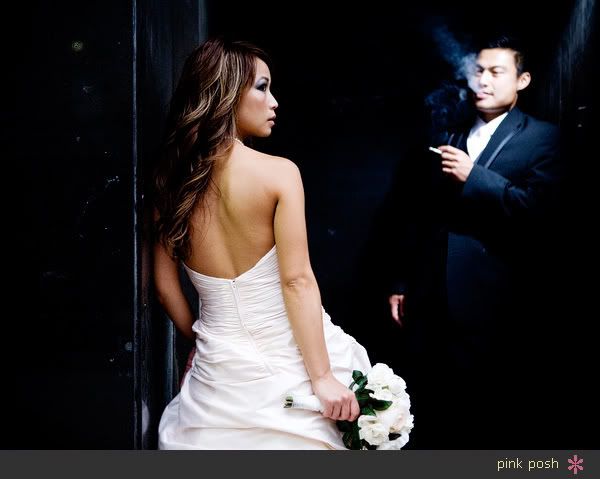 So, we had spent easily two hours walking around downtown Dallas...and decided that couple pictures were done. Jenny wanted to do some quick bridals around downtown. While we were taking these, a photographer who was shooting for D magazine asked to take pictures of us taking pictures around this area for their story! I felt so famous - sorta, but not. :oP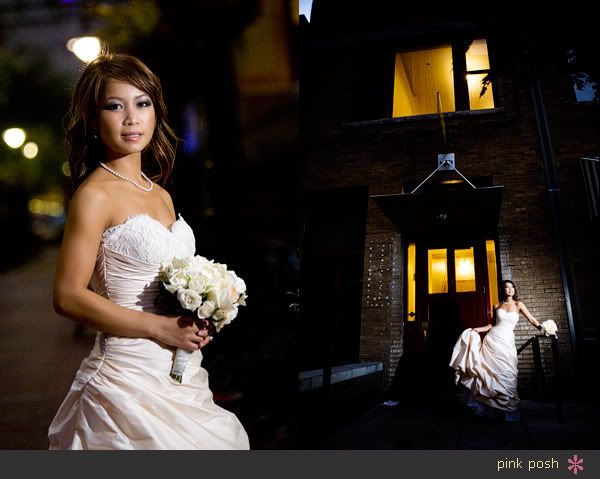 Love love this little area. (This almost feels like a broadway show set to me.)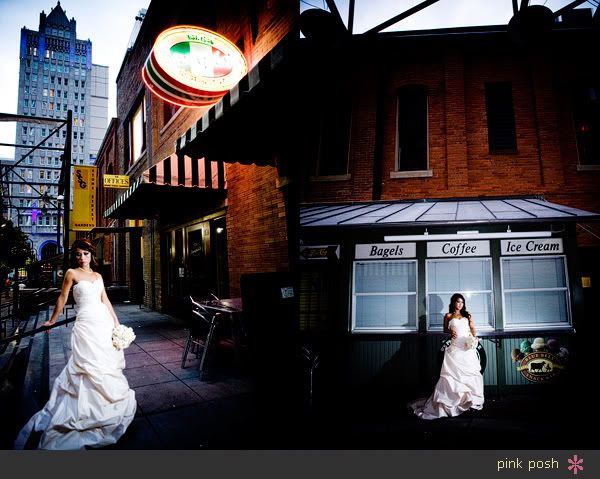 And so, while I was taking bridals of Jenny, Souket and the entourage decided to go into the bar/restaurant right where we were shooting for a couple of drinks - and to get Thurston drunk. While they were drinking it up, I ended up talking to this waiter and asked him if we could shoot inside. He didn't think it would be a problem and doublechecked with the manager - who ended up giving us carte blanche to do as we wished! (Souket told me that this was starting to get to be more his kind of shoot. :oP)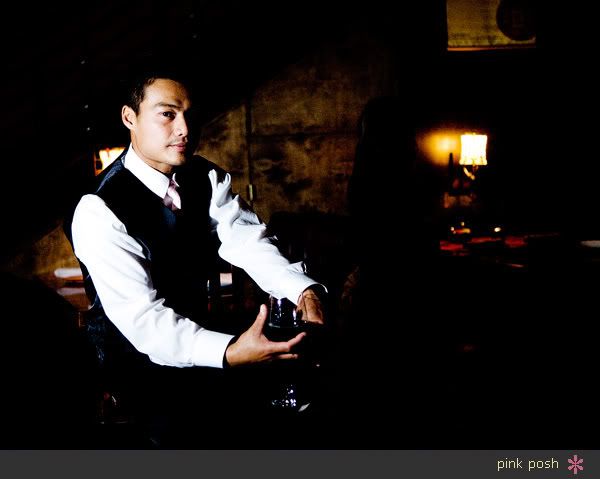 So of course, I unpacked my camera and started posing Jenny and Souket around the restaurant. I love the feel of this restaurant with the exposed brick wall and the old tiffany style lamps.



........on the bar. :)



Hmmm...can't remember if I'm allowed to blog this picture or not......but seriously, this is one of my favorite....and I bet it's one of Souket's favorites too. :oP
A little bit closer.......:oP And I'm ending this post with a sweet little silhouette and a rockin' pair of purple heels.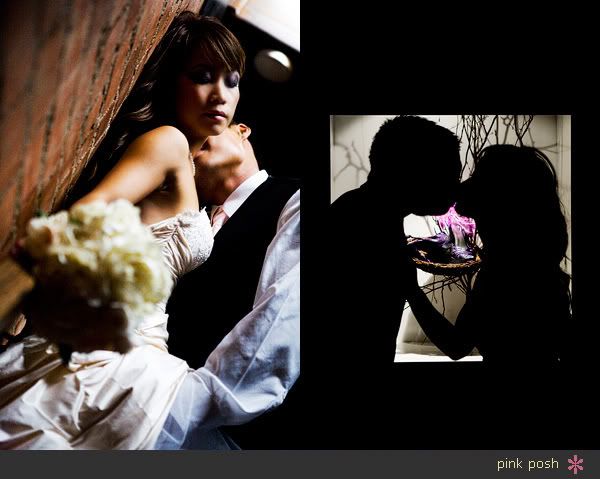 Jenny and Souket, Thurst and I can't wait for your wedding! Try not to liqour Thurst up tooooo much. :oP