Session Date: December 11, 2008

Hello again stalkers. :) Three blogs in a row...written in one night even...But this time, I'm going to cheat. You are probably wondering, how in the world is it even possible to cheat from writing a blog. Well, you see a while back ago...I was way behind on blogs. Yes, I realize I'm still behind now. So, after Julie's bridal session, I flippantly asked her if she wanted to write her own blog in the interest of time. And guess what??!! About a month ago, she sent me her recap of the bridal adventure with me. You'll see what I mean by adventure in a second. But, I love her recap sooo much, that I am going to post that instead. If anyone else wants to write their own blog about their session with us, I'll be happy to take them and use it shamelessly! :) So stalkers, to make this less confusing to figure out who's writing what...all of Julie's recapping will be in italics...and anything I plan to write (I don't know yet, if I'm commenting yet...yes, I live on the edge) will be in pink. Big surprise right? :oP

So without further ado......meet my very first guest/bride blogger - Julie! :)

BLOG from a BRIDE
To my fellow stalkers—we all know that the ultra-fabulous Pink Posh can get just a tad bit behind with blogging our pictures…..ummmmm, NO, she can get way behind on the blogging. But it's only because we cram her books. Come on! Seriously, she has more bookings then Brittany Spears. Shortly after my bridal session, our superstar jokingly asked if I'd blog my own. I seriously replied YES! So here I am, finding out first-hand just how difficult it must be to blog a session. My name is Julie and this is my blog…
Let me back up and give you a history quickie---last year I spotted the Pink Posh booth at the Austin Bridal Extravaganza, when I was there helping my friend Tavia find vendors. I think I must have stood and stared at the Pink Posh booth for five minutes in ahh before finally going up and meeting Mariae. It didn't take but a second of talking to her before I put things in perspective….bad-ass photography + super sweet and stylish photographer = MY wedding photographer. Once I came to this realization, I also came to the realization that there wasn't a ring on my finger and I couldn't book her. But of course I was there for my friend anyway. Not wasting another second, I went and grabbed Tavia from whatever vendor was bugging her at the time, brought her to the Pink Posh booth and told her "this is your photographer." She didn't even question it either! Who would? So our relationship started from there, and since I've been privileged to accompany her on a number of sessions between Tavia and myself. Obviously I finally got the ring and got engaged last Spring. My fiancé fell in love with the photography too and I'm just busting at the seams wanting to show him these pictures. And now on to the fun part—the pictures!
December 10th was my Bridal Session. The weather felt like Spring, the sun was shining bright and it seriously felt that day was meant for photography. After getting my hair styled at Urban Betty (shout out to Amanda!), Tav and I headed over to AMOA's Laguna Gloria. We started inside a chic room, and I think this was one of the first pictures Mariae took. Needless to say we got off to a fabulous start!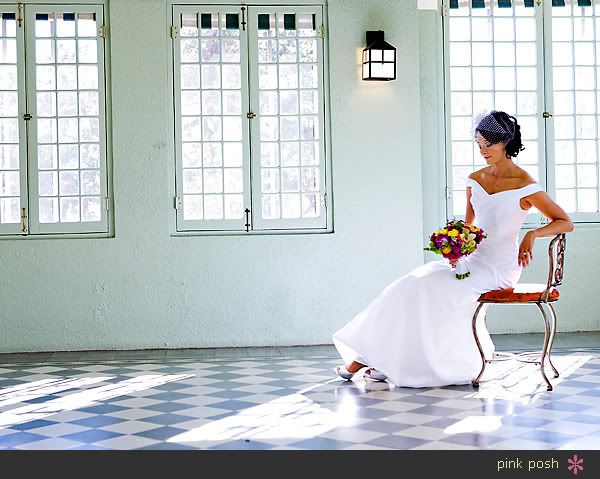 The sunbeams through the window were obviously something Mariae had to play with, and as usual, her instincts were right-on, and I got some unique and fabulous shots…
I do love my sunflares.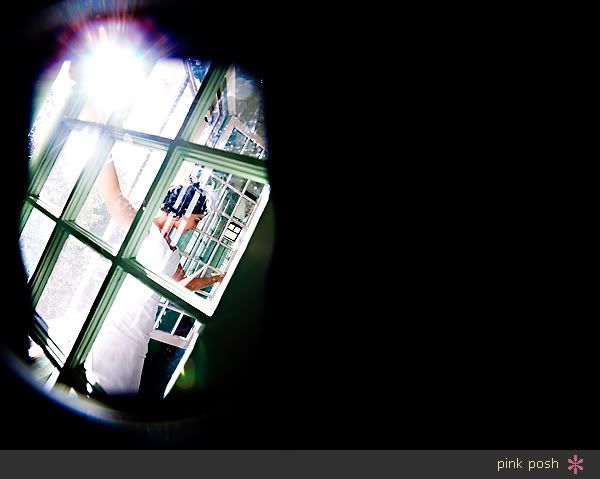 And now to introduce the French veil…I never imagined my photographer would get so excited over a little netting and a feather!
Yes, I do believe all of my brides should wear a french net veil for their bridals.
It really was so much fun to play with in the session! Here's the first pic I have with it up close. It's one of those pictures you can't just glance at. There's so much detail. My photographer is talented! Love it!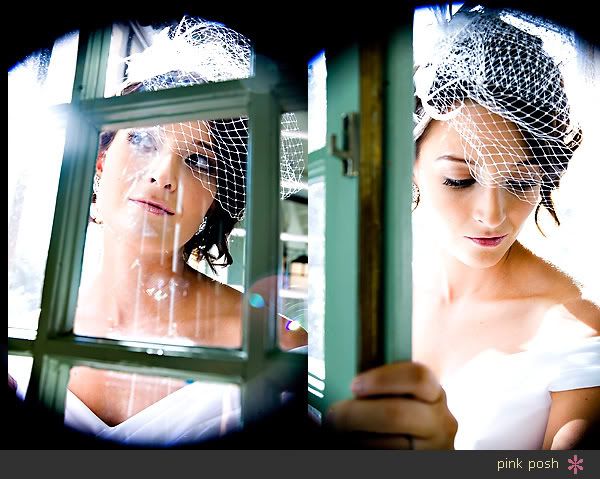 Venturing outside…
Stalkers, this is one of my favorite, favorite, favorite bridal image. Julie might not enjoy it as much as me, since half her face is chopped off, but I absolutely adore the vintage feel of this image.)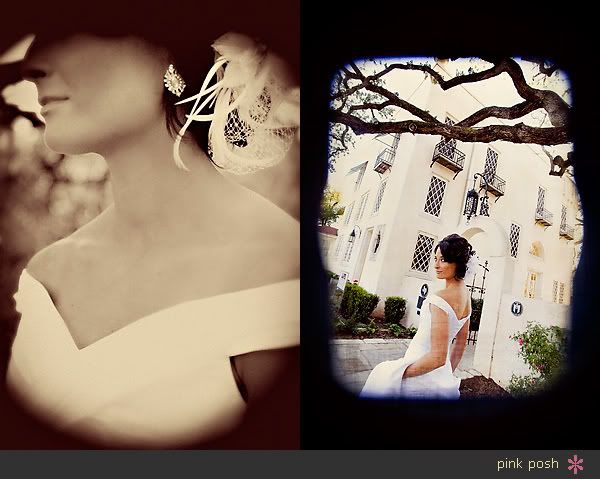 We stumbled across this "thing" that Thurston and Mariae thought was a Roman numeral II, and Tavia and I thought was a Pi sign. Nevertheless, it was cool. I feel so powerful in this picture. I love the way the picture looks dated.

When I selected Laguna Gloria as a backdrop for my bridal portraits, never in my WILDEST dreams would I have imagined jungle pictures. Pleasantly surprised, Mariae and Thurston had an amazing idea…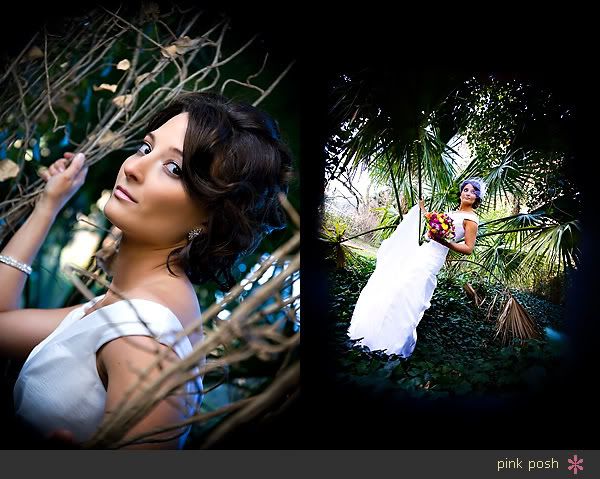 I nearly twisted my ankle in the jungle, and I was scared to death that I was going to step on a snake, but I made it out alive. Thank God! Thurston at one point had to carry me because the ground was so unstable and I was in stilettos. These pictures were definitely worth the hiking, and the slipping.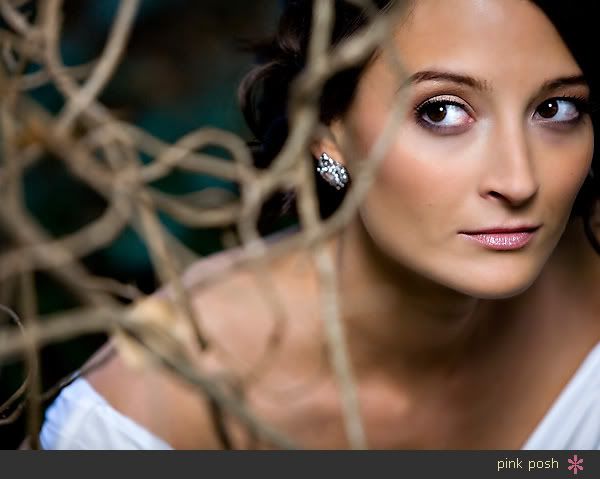 And the final fabulous shots with the veil before I hid it from Mariae.
I heart Julie in this picture. :)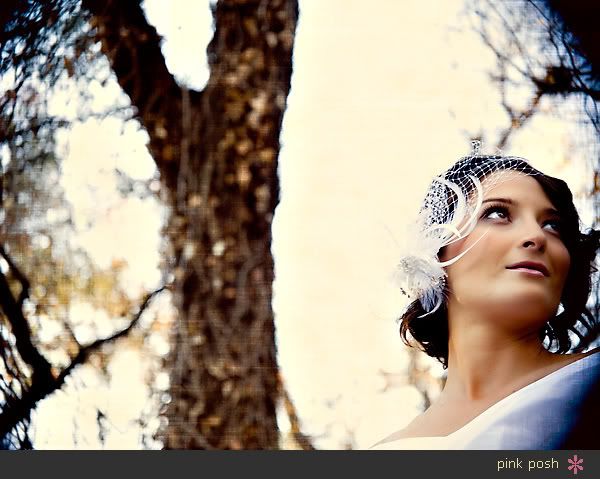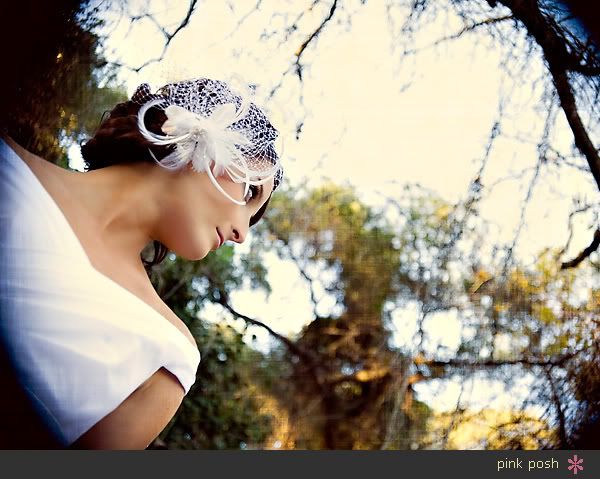 May I say to all you brides out there…get over the fear that you're going to dirty your wedding dress. I learned from a dear friend that the wedding dresses with the most battle scars are those with the most memories and GREAT PICTURES. If Mariae or Thurston ever ask you to walk through a jungle in a white dress and white shoes, just DO IT!
Next we headed over to my wedding venue, Mansion at Judges' Hill. If you know my personality, you'll know that these pictures are totally "Julie" in every way. I'm definitely the conservative type, I like traditional with flair. I'm so excited to see more pictures from Mansion! We started in the foyer of the main house. I love that Mariae got some black and white pictures. I loved this…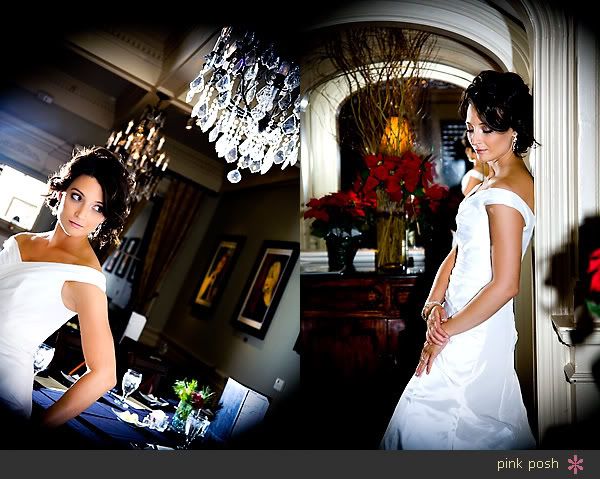 Not only is the next picture breathtaking, it's probably the most meaningful and sentimental picture we took on the shoot. I was sitting in a chair underneath the pergola where Matt and I will say our vows. Just thinking about Matt put the grin on my face. My eyes are looking at the steps we will walk up to when we commit our life to one another.

And, well, I couldn't have looked up anyway because Thurston was holding a huge spotlight about three feet away from me and I may have gone blind if I looked at it. How cool of an idea though? It makes for amazing pictures. Thurston and Mariae, you are geniuses!
The genius comment is an inside joke from the time we shot Tavia's bridals in Fredericksburg.
This image of Julie has a Marlene Dietrich feel to me.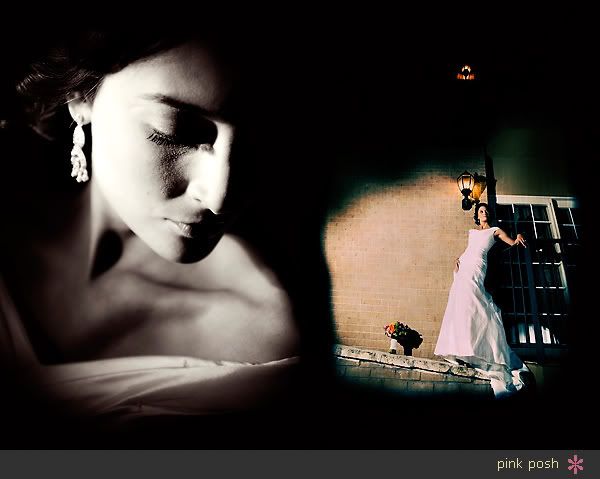 Fellow stalkers, it's been a pleasure blogging to you! I'll leave you with one of my favorite pictures that shows exactly how I feel about my Bridal Session with Pink Posh. Incredibly happy! And in the words of Mariae…I big puffy heart you and Thurston. You rock my world! -

Julie