Wedding Date: July 26, 2008
Photographers: Vincent

*

, Thurston

*

and Mariae

*


Ceremony: Sacred Heart Church (Old Shrine)
Venue: Kim Son Ballroom Jefferson

The day after Nikki's Quinceneara, I headed out with Vince and Thurston to shoot Huong+Nick's wedding. Typically, we go to an event with just the two of us - but I dragged an extra person along because I felt like complete and utter crap. I had the worst headache, stuffy nose, runny nose!, and really felt like I needed the extra set of hands to get me through the wedding......but stalkers, I was wrong. When we got to the wedding, I totally felt reenergized and didn't feel crazy sick at all! Huong and Nick had a super fun wedding and it did the trick for me. Let's just say that there was a time during the wedding that a tooth went missing; there were two bouquet tosses; the groom serenaded the bride...sort of; and some vomitting may have occurred along the way. :)

Stalkers, meet Huong+Nick. And in case you haven't noticed how absolutely stunning Huong looked on her wedding day.....I included a close-up for you. :)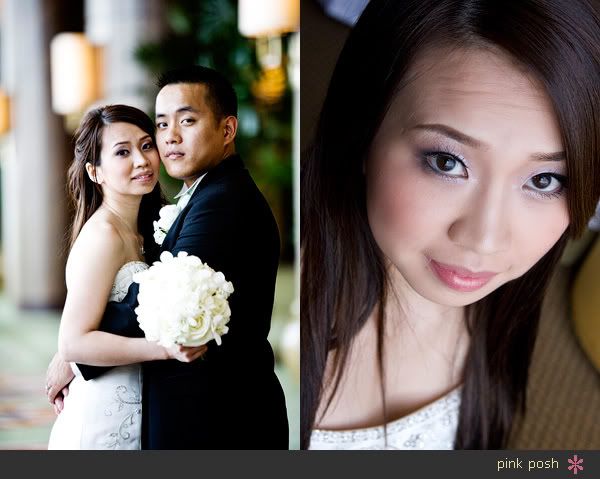 So, Huong ran a little bit late to her wedding - about 20minutes-ish. The priest announced that she ran into some traffic - because you know how heavy traffic can be from a mile away. :oP I however, know the real "traffic" story. :oP But, stalkers, I think she's worth the wait. :)



The ceremony. I love that this Catholic church didn't prohibit the use of flash!



A different take on the "ring exchange." :oP



So, if you're wondering if you should sit or kneel during your wedding ceremony - go for kneeling. It makes for reallly lovely images. :)



The beautiful bridal bouquet.



More of the lovely flowers at the wedding.



The wedding party. :) So, Huong+Nick set aside an hour for wedding party pictures!!! I love all the time I got with them...plus, they get extra points for listening to me! :)



I love Nick's expression here! I think he knows he got himself a catch. :)



Look what I found going through Vince's images! I was busy shooting the guys...while he did a little mini photosession with the girls.



...and here's what I was busy doing.......Um...this is the non-scandalous one. Guys, you know what I'm talking about. :oP I'm keeping my blog G-rated!



After the hour with the bridal party, I had an entire hour with just the bride and groom! Heaven!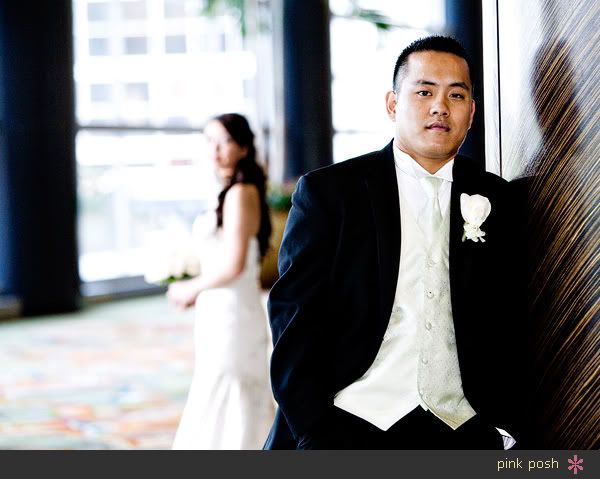 Love love love the stairways here. Plus, Huong and Nick was sooo willing to try and do anything and it just made it so easy to get great pictures with them. You wouldn't know it, but there was a packed seminar just right below us over the railings. I love that it didn't phase them at all!



I love symmetry. I love elevators. And I love their little peeks at each other.



When we were walking through to meet the wedding party and the bride+groom, we passed by these two paintings. I knew immediately that I wanted to take Huong+Nick back to this spot for a picture. Hali confided in me that this is her favorite picture from the wedding. :)



The rings! Yes, I stuck"ed" it in strawberries. And one with the adorable party favors! They're Vietnamese bride+groom magnets! Too cute!


A little bit of reception details.



One of my favorite candid moments. Huong was doing nothing more than waiting for guests to sign the guestbook then come over to take some pictures with her. It makes me smile everytime I look at this picture. Plus, can I tell you how much Huong+Nick rock?? They had someone else (not Pink Posh) take the pictures of them with the guests (it's a Vietnamese tradition) so that we would be freed up to take other type of images - like this one!



Earning their wedding gifts! So, I know this picture is innocent enough. This is one of the most popular game that guests make the bride+groom perform at their wedding, BEFORE they can get their wedding gifts....



.....and this is where they do the "earning." HAR HAR. :)



As denoted by the lovely pink bag - meet the wedding gift collector. Yes, its a new style. And stalkers, the picture on the right - MY FAVORITE from the wedding. Huong+Nick with their baby girl. I heart this family moment.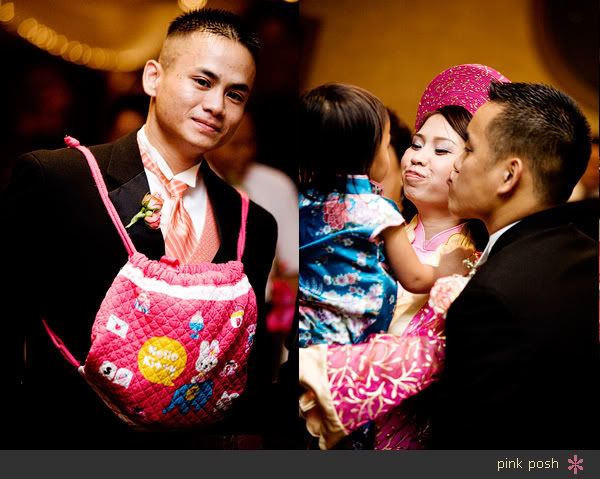 So, there was a little snafu with the first dance music....so Nick solicted one of his groomsman to sing their first dance song - I Swear. BUT, before Nick and Huong took to the floor, Huong asked her father to lead her out - and Nick jumped on stage to perform a duet.



Halfway through - Nick reclaimed his bride. :) Stalkers, can you just see why we love shooting weddings. We get to document beautiful sentimental moments.......



....and totally unexpected crazy "smashing" fun moments! I don't think Nick was expecting Huong to smash a huge piece of cake in his face. He's trying to get back at her here!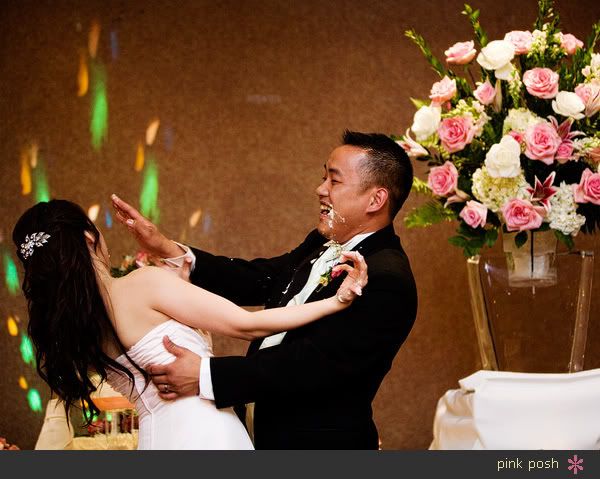 ......And let's just say that the Cake Smashing was a success! The best one we ever had!! (And Huong, I know you are going to hate me for posting this picture up of you...but you totally deserved it for what you did to poor, unsuspecting Nick!)



The Bouquet Toss. Yes. Your eyes are not deceiving you. There are boys on the floor trying to catch the bouquet!



And damnit - if they can catch the bouquet, they should be able to throw a bouquet too right?



Stalkers, Thurston totally rocked this shot!!! You are probably wondering who won? Well, see the guy in red? He caught the bouquet that Huong threw. Then on the second bouquet toss (by Nick)....he swatted the bouquet out of air and the bouquet flew apart. So I'm giving him credit for both. Which means that he should be two-stepping to the altar by now right?



And finally, the exit. :)

Huong+Nick, we loved every single moment of your wedding day and enjoyed every hour that we spent with you guys! You guys are wonderful and a word of advice - TAKE A HONEYMOON! :)